Property professionals are making greater and more frequent use of drone technology as part of their asset management strategy. This increase in demand reflects the overall upward trend in the sector with analysts at Barclays predicting a ten-fold increase in market value to $40bn in the next 5 years.
How can property professionals benefit and what are the best ways to use this technology?
Drone surveying is a fast and efficient way to carryout building inspections and condition assessments.  The key benefits of this approach include:
Improved safe working practices, reducing risk and the potential for accidents.
A cheaper way to carry out assessments than traditional inspection methods.
Accurate and reliable inspection data, informing accurate decision making.
A variety of sensors and cameras that perform different kinds of inspections.
Full mobility and flexibility to obtain imagery of hard to access areas.
It is clearly cheaper to utilise a drone than hiring access equipment, a contractor, and in many cases having to shut down areas of your building or estate; but drone's offer so much more…
The Matrice 300 drone flown by REAMS' pilots is at the top of its technology class and can be equipped to carry a number of cameras and sensors.  These include high resolution cameras, 4k video, LiDAR sensors and thermal imaging cameras.  This broadens the scope for the type of survey, and multiple paths of data can be captured in a single short flight.
From the perspective of the client it is also critical that the software platform can store, analyse, and report on the imagery meets your needs.  Our ELIAS platform includes a drone module that allows our clients to work collaboratively with our surveyors, to focus on the findings, explore their estate themselves, and to access the reports produced as part of the survey.  This allows quick, accurate, and speedy decision making supported by real time evidence.
And whilst we all understand that drones can identify defects such as weathering , roof leaks, dislodged tiles, damaging flashing and the condition of guttering and downpipes, a drone can also map your whole estate, provide a 3D digital twin and digital terrain models.  All accessible from a desktop ready to be explored and analysed by your colleagues stakeholders and supply chain.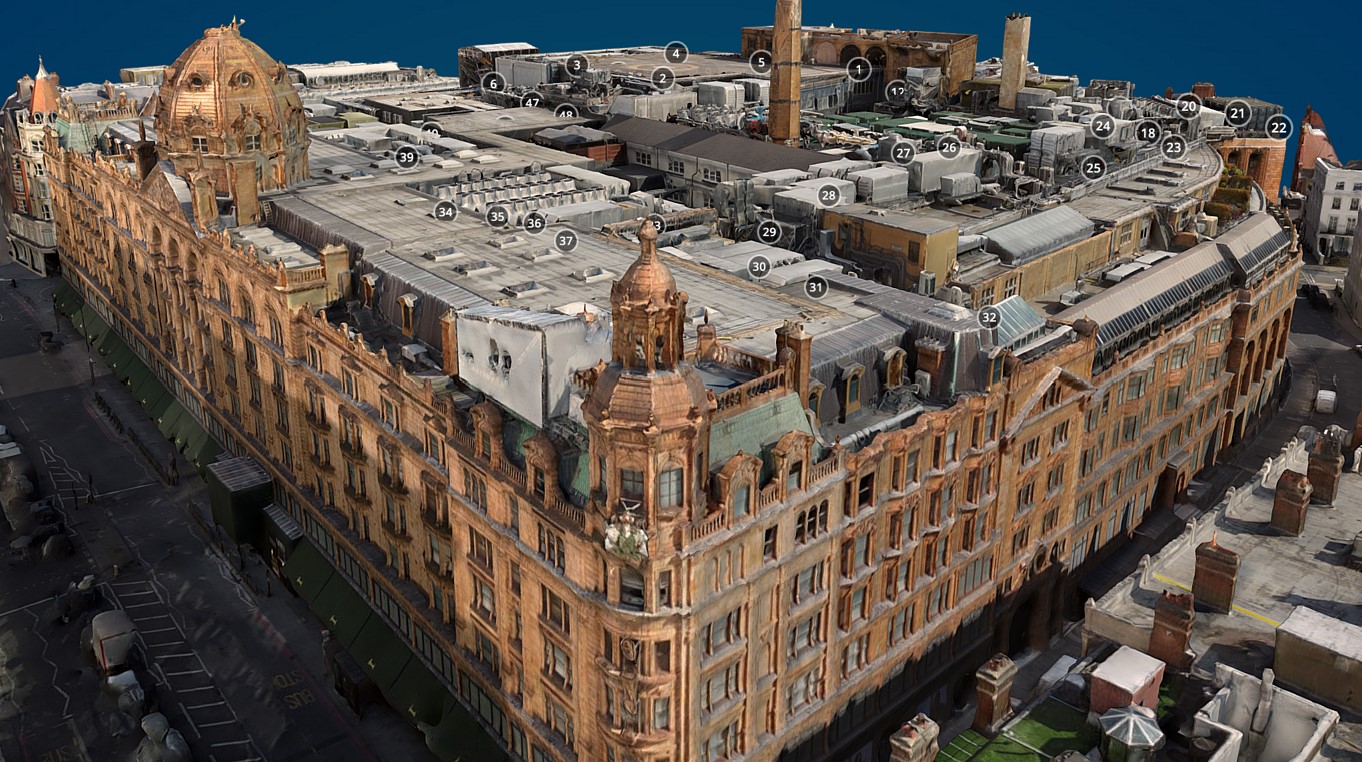 In short, the combination of drones and non-destructive surveys brings significant advantages compared to traditional means.
Property executives using drone technology benefit from faster and more efficient building and estate assessments increased safety, cost savings, and evidence-based outputs allowing them to implement the correct maintenance regimes for their buildings, estate and structures.  The approach is easy to deploy and truly collaborative.
For more information on our drone inspections and analytics platform contact us.